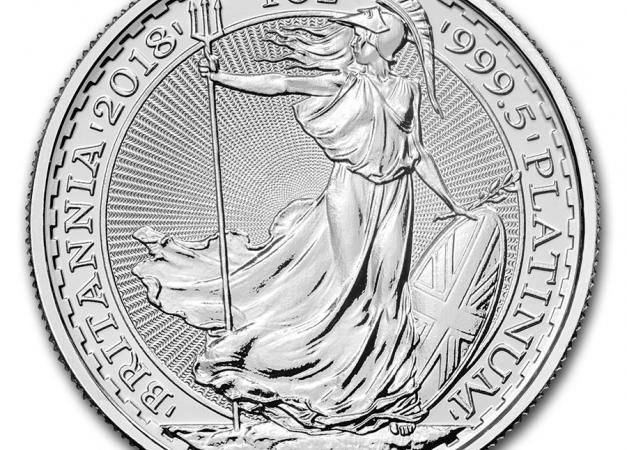 Feb 2018
MTB named new global distributor for Royal Mint Bullion
Royal Mint Bullion celebrates signing of newest global distributor with exclusive Royal Mint 'first' Britannia Tenth Ounce Bullion Platinum Coin.
The Royal Mint's Bullion division is celebrating its partnership with US-based global distributor Manfra, Tordella and Brookes (MTB) with the launch of a Royal Mint 'first' - the classic Britannia design struck for the first time on a tenth ounce bullion platinum coin, which will be available exclusively through MTB.
Chris Howard, Director of Bullion for The Royal Mint, said: "The Royal Mint is very pleased to be working with Manfra, Tordella & Brookes for the global distribution of our classic tenth ounce platinum coin."

Scott Spitzer, the Chief Executive Officer of Manfra, Tordella & Brookes said: "We are delighted by the opportunity to work closely with The Royal Mint, a longstanding industry leader, on this new and innovative product".
Roy Friedman, the President of Manfra Tordella & Brookes said: "On behalf of the MKS PAMP Group, Manfra, Tordella & Brookes is very pleased to be the global distributor for The Royal Mint's first ever release of a one-tenth platinum Britannia. The coin will offer collectors and investors the opportunity to participate in the platinum market by purchasing this new addition to The Royal Mint's Britannia series of legal tender bullion coins".
The coins have been struck in 999.5 Platinum and are minted to bullion standard and carry the UK Government assurance of weight and purity. A further addition is the textured 'guilloche' finish that appears on the obverse of the coin, surrounding the portrait of Her Majesty The Queen by Jody Clark.
The Royal Mint's bullion coins are available exclusively through Manfra, Tordella and Brookes, Inc. (MTB) at www.mtbcoins.com. Please call 001-212-981-4550 for further details, or email royalmintbullionsales@royalmintbullion.com.
Specification
Britannia 2018 UK
Tenth Ounce Platinum Coin
Face value £10 (GBP)
Metal 999.5 Pt
Weight 3.13g
Diameter 16.45mm
Edge Milled
Finish Bullion
Obverse Jody Clark
Reverse Philip Nathan
royalmintbullion.com
Images
The Royal Mint retains copyright ownership © of all images. These may only be used for editorial purposes and cannot be sold or used for other marketing purposes without the permission of The Royal Mint.