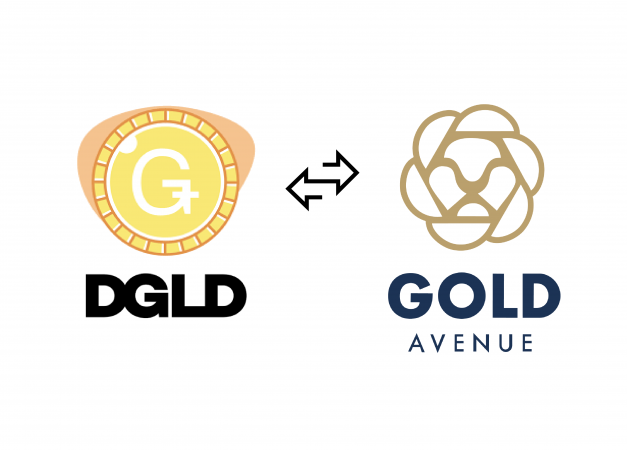 Oct 2020
Leading precious metals players bridge digital and physical gold
GOLD AVENUE, the official online retailer of the MKS PAMP GROUP now allows DGLD token holders to pay for their physical bars and coins with digital gold.
The collaboration between DGLD and GOLD AVENUE is setting an exciting milestone in the relationship between the crypto space and the physical gold community sector. With customers at the core of their business, DGLD and GOLD AVENUE offer precious metals buyers a bridge between digital and physical investments via a user-friendly payment gateway.
Since its launch in October 2018, GOLD AVENUE has seen its team grow tenfold and is already reaching nine-figure revenues, "Over the last two years, we have established ourselves as pioneers of online precious metals commerce, by continuously driving innovation in response to our customer's evolving needs. Today, our customers will be able to use their DGLD tokens to purchase physical gold such as small bars and coins in just a few clicks - that's rewarding", states Alessandro Soldati, CEO of GOLD AVENUE.
Launched in October 2019, DGLD offers a solid, regulatory compliant, transparent solution supported by highly reputable precious metals and digital assets professional, to promote digital gold as a modern means of holding physical gold without forfeiting conversion.
DGLD is a token which provides digital proof of ownership of 'allocated gold' physically held in a Swiss vault. It is backed by industry-leading partners and secured with the bitcoin blockchain.
Combining gold with the world's largest public blockchain allows for significant improvements to the status quo, and doubles-down on the characteristics that have made it so attractive to investors for thousands of years.
"Our customers want to be able to switch back and forth between physical and digital ownership, settling purchase in DGLD on GOLD AVENUE is a way to achieve this with ease and fluidity." says Daniel Masters, Chairman of CoinShares. 
To coincide with this announcement, a webinar will be taking place on 20th October at 11am (CEST). "Physical gold vs digital gold: can investors get the best of both worlds?" with Alessandro Soldati, CEO at GOLD AVENUE, Chloe Desmonet, Head of DLT Projects at MKS Switzerland and moderator, Ross Norman - an Independent Analyst. Explore the true possibilities of this ecosystem by registering on https://fal.cn/3aRWq.